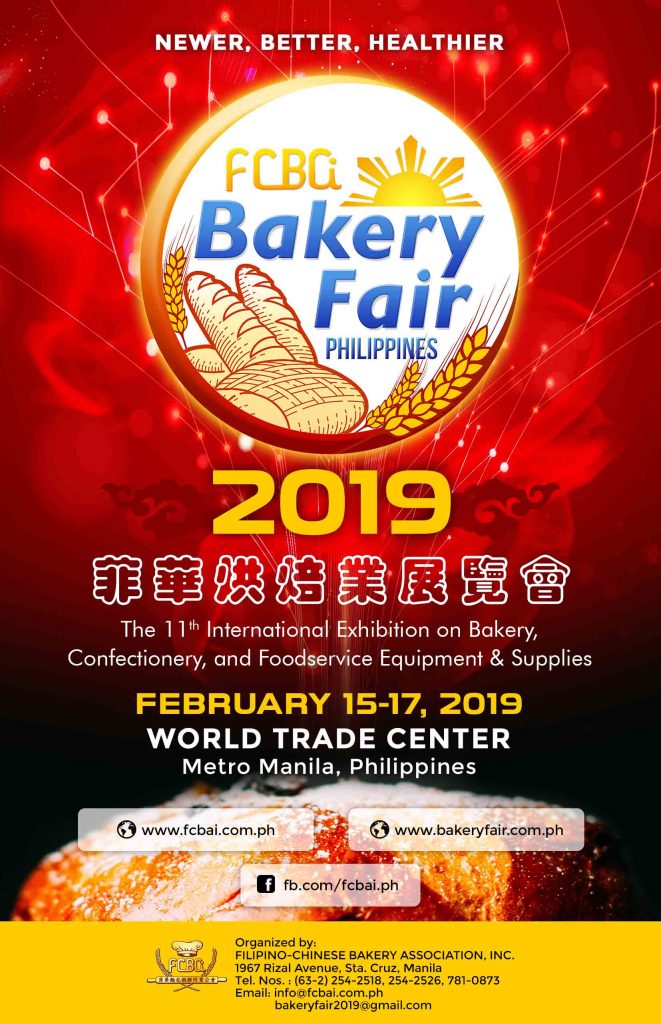 Bakery Fair 2019
Peter Fung
Feb 15-17, 2019 World Trade Center
Bakery Fair 2018
Bien Enrico Ah
Mar 1-3, 2018 SMX Davao
Bakery Fair 2017
Bien Enrico Ah
Feb 17-19, 2017 World Trade Center
Bakery Fair 2015
Winston Uy
Jan 30-Feb 1, 2015World Trade Center
Bakery Fair 2013
Benito Lim
Feb 21-23, 2013World Trade Center
Bakery Fair 2011
Antonio Lim-Kit
Feb 18-20, 2011World Trade Center
Bakery Fair 2009
James Chua
Feb 19-21, 2009World Trade Center
Bakery Fair 2007
Marcos Ong Jr.
March 8-10, 2007World Trade Center
Bakery Fair 2005
Ching Suy Eh
Feb 18-20, 2005World Trade Center
Bakery Fair 2003
Pancrasio TanFeb 27 - Mar 1, 2003 World Trade Center
Bakery Fair 2001
Gerry Chua May 25-27, 2001Philippine Trade Training Center (PTTC)
Welcome to the Bakery Fair, a celebration of the art of baking!
Whether you're a professional pastry chef, a seasoned home baker, or simply have a love for all things delicious, our fair is the perfect place for you. Immerse yourself in a world of creativity, where innovative techniques and traditional recipes come together to create tantalizing treats.
Discover new flavors, explore the latest trends and learn from industry experts. Engage in hands-on workshops and witness thrilling competitions that push the boundaries of baking excellence.Connect with like-minded individuals, forge relationships, and be part of a vibrant community that supports and inspires one another. Our all-inclusive celebration welcomes people from all walks of life. Stay tuned for updates on our upcoming fair and prepare to be dazzled by the sights, aromas, and tastes that await you. Join us as we celebrate the art of baking, ignite your creativity, and share the joy of delicious delights.
Welcome to the Bakery Fair—where passion meets pastry!